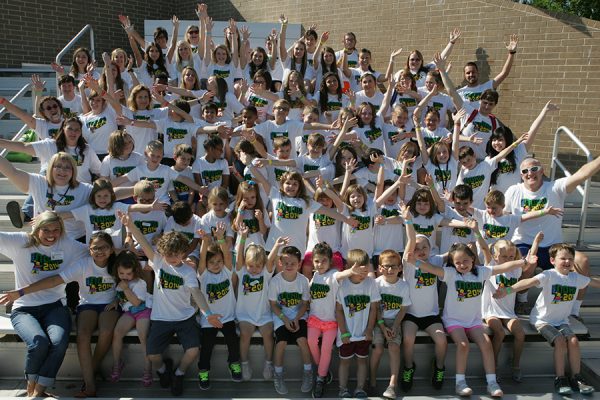 This month we are spotlighting all of the campers, counselors, medical staff and all of the other volunteers who participated in Camp NoHiLo 2014 from June 9-13. Campers ranged in age from 3 years old to 10 years old. After completing our fifth year, Camp NoHiLo once again is proud to say that we have improved the lives of children with diabetes and their families.
Whether it was giving an injection for the very first time, poking a finger completely by themselves or making a new friend who also had diabetes, campers at Camp NoHiLo spent each day celebrating life and having fun despite diabetes.
When campers arrived each day, they anxiously waited for what was in store for them. After doing morning blood glucose checks, each day began with a little pick me up music and doing the Chicken Dance, scooting to the Cotton Eye Joe or simply jumping up and down because the music was so fun. How could that not make for a great day?
Campers were divided into color groups by age. Each group rotated thru various activities throughout each day.
The Creation Station was a favorite of many. Campers made log cabins, test strip trash cans, canvas art and much more. The Learning Labs included fun games and activities that increase their knowledge of diabetes and their skills necessary for diabetes care. Campers filled test tubes with "high blood sugar," made out of water, syrup, food coloring and beads to see how slow the blood moves when its full of "sugar."
Other daily activities included gym games, learning to care for the bear with diabetes, "Jerry the Bear" and playing on the super cool playground of Heritage Hall.
Each afternoon ended with something entirely unique. Chester the Clown came by one day and proved that clowns can be very funny with their tricks and talents. On another day, Jed Castles from News Channel 9 spoke to our group about Oklahoma weather.
The carnival provided endless fun with a forty foot inflatable obstacle course, games galore, sugar free snow cones, and photo-ops with Pistol Pete and Boomer. Oh what a day it was!
Putting all of this together requires much involvement and coordination of many individuals. Our DSOK staff and many volunteers worked tirelessly to make this week unforgettable by campers. One camper summed it up best when he threw his arms in the air and shouted, "Dis is my BESS. DAY. EVAH!!"
Thank you to all of you who helped make the best days with diabetes possible.