DSOK Spotlight: Camp Endres Junior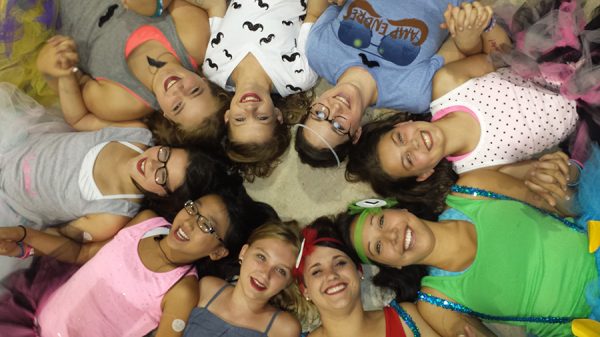 "Twenty seconds of courage is all you need. You can do this. Just give me twenty seconds of courage." These are the words I spoke repeatedly at Camp Endres Junior this past summer. With these statements, I was encouraging campers to do what they were previously unwilling or fearful to do – before coming to camp, that is.
Most campers who attend Camp Endres Junior give their own injections or put in their own pump sites or infusion sets. However, many of these same campers do not rotate their injections or infusion sets and begin to develop lumpy, tough skin in these overly used areas; also known as lipohypertrophy. These overly used areas can cause problems with insulin absorption leading to erratic blood glucose control.
As we encourage the use of new areas for injections, we frequently uncover a great deal of fear and apprehension. Trying to convince someone with diabetes to try a new injection site can be more difficult than it sounds. So I say, "Twenty seconds of courage is all you need." I am not asking for courage of a warrior. Only twenty seconds.
Some campers come to camp forgetting for just a moment that when they are at home, it may be only mom or only dad who gives their injections or changes their pump sites. Suddenly they are in a situation where either they themselves or someone else, like me, is going to be doing these routine things, and more significantly, mom is not.
This fear is real and can be overwhelming. Again I say, "Give me 20 seconds of courage; then we can do this."
For some, this camp opportunity was their first experience being away from home or being away from mom and dad since being diagnosed with diabetes. I am so proud of all the campers who accomplished so much and made positive changes in their diabetes management practices.
Some tried rotating their injection sites to new areas of skin, others allowed someone other than their mom to give them an insulin injection and others were able, for the very first time, able to give their own injections or put in their own pump site. These were major accomplishments. What was the price? Twenty seconds of courage.
Camp Endres Junior was help July 27 – August 2nd at the YMCA Camp Classen in Davis, Oklahoma. Seventy two campers and many volunteer counselors and medical staff came together to form this amazing network of support and friendship.